How to Change Netflix Region with or without VPN to Unblock Any Library?
Tony Bennett
2022.08.19
How-to Guides
Streaming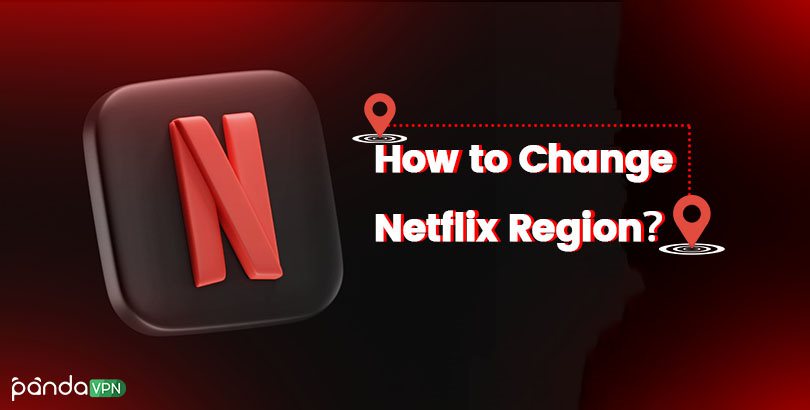 Netflix libraries vary in different countries. If you want to watch Netflix content unavailable in your country, you can only receive alerts like:
"This video is not available in your country. Sorry about that."
"Sorry, Netflix is not available in your country yet."
"This title is not available to watch instantly. Please try another title."
"The uploader has not made this video available in your country. Sorry about that." …
In this case, you can try to change your location on Netflix. Changing Netflix region gives you various access to streaming libraries in different countries/regions. This means no matter where you are, you can unblock the global Netflix library.
How to Change Netflix Region with VPN?
A VPN (Virtual Private Network) reroutes your internet traffic through the server located in your selected country. Connect to a destination server, and you'll change your IP address to a different location. As a result, you can successfully change Netflix region.
PandaVPN offers 3000+ servers in 170+ server locations in more than 80 countries. You can find thousands of alternatives to change your location on Netflix. Don't know much about PandaVPN? Luckily, PandaVPN has a free trial on its Android and iOS VPN app!
Follow the detailed steps to change Netflix location with a VPN. Here we take PandaVPN for Android as an example.
Step 1: Download and Install PandaVPN.
Download PandaVPN for Android, and you'll get a free trial for 3 days. PandaVPN will automatically generate a digital account. You don't need to offer an email address or credit card information for payment.
Note:
Apple users can download PandaVPN for iOS here. But you should know that you need to pay for it in advance and then you can start a 7-day free trial. Within 7 days, you can cancel the subscription. After you cancel, the trial continues.
Step 2: Switch VPN Servers to Change Netflix Region.
Run PandaVPN and enter the server list. Connect PandaVPN to the server in a country with the Netflix content that you want to watch. For example, if you want to watch US Netflix, simply connect to a US server.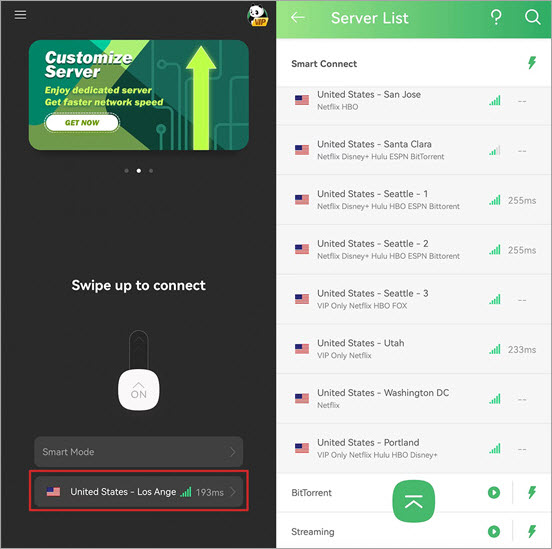 Step 3: Log in or Register a Netflix Account.
If you already have a Netflix account, enter the Netflix web or open your Netflix app and log in to it. If you don't have an account yet, sign up now. To change your location on Netflix again, just open PandaVPN and switch to another VPN server.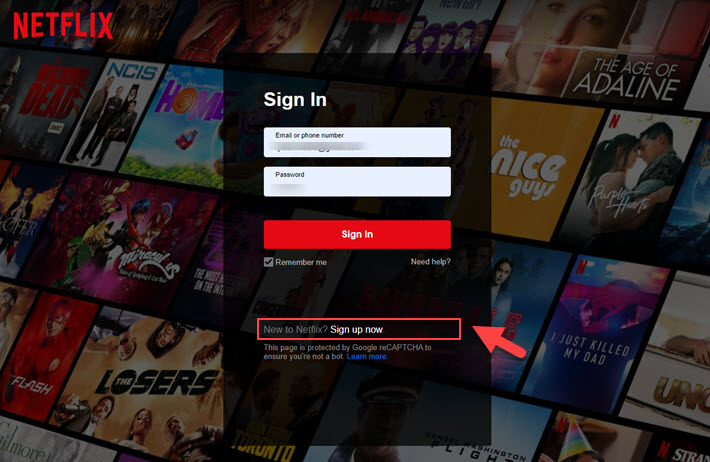 How to Change Netflix Region without VPN?
There are some other available options to teach you how to change Netflix region without a VPN. However, you should know these methods have disadvantages compared to a VPN.
➤ Web Proxy Service
Proxy is an alternative way to change region on Netflix. We find 3 fairly reliable free proxy sites for you to have a try, including HideMyAss proxy service, Hide.me free proxy servers, or KProxy free proxy site.
Cons: Proxies don't encrypt traffic. It tends to be very crowded, which will make your Netflix connections unstable.
Take HideMyAss free proxy as an example and here we show you how to change your location on Netflix with a proxy service:
Step 1. Go to the HideMyAss proxy site.
Step 2. Enter "netflix.com" into the box and choose a server based on the Netflix region you want to connect to. Click "Agree & Connect".
Step 3. Click "Continue to page" or wait a few seconds for HideMyAss to load. Then click "Agree & Connect" again.
Step 4. Sign in to your Netflix account and now you can stream Netflix content in the location of your proxy server.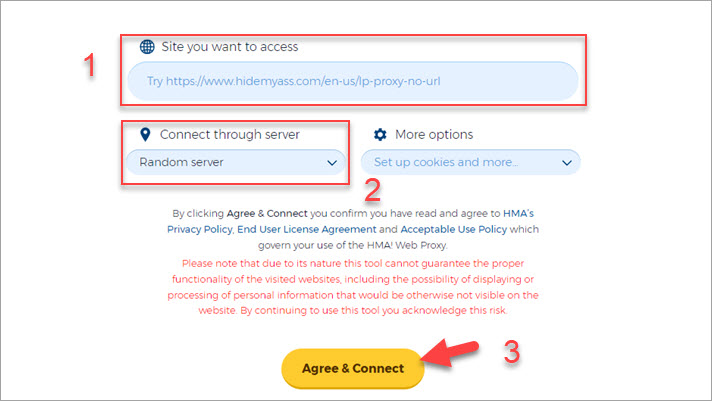 ➤ Tor Brower
Tor browser works to change Netflix location for free. Tor only encrypts the traffic in the entry node and the exit node is an exception. Thus, Netflix will know you're using Tor browser.
Cons: As the name suggests, Tor works only on the Netflix web with incomplete encryption. The connection speed through the Tor browser is slow.
Here we take the Tor Windows app as an example. Follow the steps below to change your Netflix region with the Tor browser:
Step 1. Download the Tor browser.
Step 2. Click the .exe file, select a language, and download Tor to your Windows computer.
Step 3. Open the Tor browser and click "Connect".
Step 4. Go to the Netflix web and now you should be able to see different Netflix libraries.

➤ Smart DNS Service
Smart DNS service is another way to change the Netflix region without a VPN. It lets you change your device's DNS setting to reroute your connection through the DNS server in the country you choose. Two popular smart DNS services are Smart DNS Proxy and Unlocator.
Cons: It's much more difficult to configure than a VPN app and only offers limited server locations. Plus, smart DNS tools don't encrypt your traffic or hide your IP address.
Here we take Smart DNS Proxy as an example to show you how to change your Netflix location with smart DNS service on an Android device:
Step 1. Sign up for Smart DNS Proxy.
Step 2. Connect your device to a Wi-Fi network.
Step 3. Go to Settings > Wi-Fi.
Step 4. Press and hold the preferred (or active) wireless network until a dialog pops up.
Step 5. Select "Modify Network".
Step 6. Check the "Show advanced options" checkbox at the bottom.
Step 7. Switch "IP settings" to "Static".
Step 8. Keep IP address, Gateway and Network prefix length the same (should be set from standard DHCP).
Step 9. Set DNS 1 and DNS 2 fields as per the table below.
DNS 1: 23.21.43.50 | DNS 2: 54.229.171.243
Step 10. Click "Save".
Step 11. Restart your phone.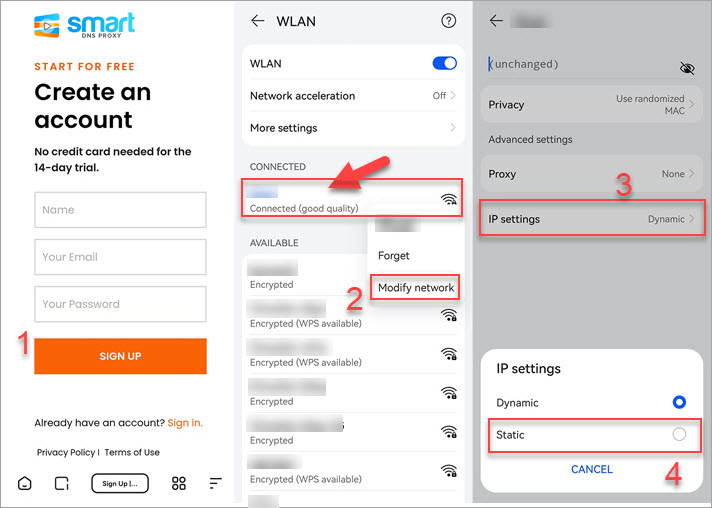 Top Netflix Library Options for You to Change Netflix Region
Each country comes with a different Netflix library. Your geographical location determines how big your Netflix library is. But if you have a VPN in hand, you can bypass geo-restrictions and access all Netflix libraries worldwide.
We compare the global Netflix library as of April 2022 and list the top 10 Netflix library options in the table below for you to change Netflix location:
| | | | |
| --- | --- | --- | --- |
| Country | Number of Total Titles | Number of Movies | Number of Shows |
| Slovakia | 7,436 | 3,419 | 1,658 |
| Bulgaria | 7,162 | 1,520 | 730 |
| Lithuania | 6,938 | 3,192 | 1,649 |
| Estonia | 6,932 | 3,012 | 1,327 |
| Latvia | 6,925 | 3,083 | 1,494 |
| Iceland | 6,886 | 3,160 | 1,621 |
| UK | 6,710 | 3,147 | 1,493 |
| Ireland | 6,546 | 3,708 | 1,538 |
| Philippines | 6,431 | 3,371 | 1,542 |
| Singapore | 6,427 | 3,150 | 1,618 |
Note:
1. Netflix US ranked 20 of the most extensive Netflix media libraries, with 5,831 titles available.
2. Liechtenstein and Switzerland won the most expensive Netflix subscription rates in 2021, with $12.74 per month for the basic subscription.
3. Argentina, Turkey, and Brazil offer the cheapest Netflix subscription costs at about $3.28 to $4.13 per month.
Netflix VPN, Proxy, or Unblocker Error? 5 Tips to Fix
When you're changing Netflix region to watch your favorite Netflix series, you might encounter the error message "Looks like you're connecting through a VPN, proxy, or unblocker service." Netflix would advise you to turn off any of these services because Netflix has a ban on VPNs and other services.
Ignore Netflix's advice and try the following tips:
1) Switch servers. Netflix bans VPNs by tracking down the VPNs' IP addresses. Switching servers change your IP addresses.
2) Clear browser cache and cookies. Your browser history may reveal your identity. Clearing cache and cookies on your browser may help.
3) Refresh the Netflix web or restart the Netflix app. After you switch servers and clear cookies, don't forget to refresh the Netflix web or restart Netflix app.
4) Update your VPN app. Always make sure your VPN app is updated to the latest version.
5) Get a new VPN. If you're using ExpressVPN, NordVPN, or other easy targets of Netflix VPN ban, try a lesser-known but powerful VPN such as PandaVPN.
PandaVPN keeps adding new servers to deal with Netflix's tracking of its server IPs. And PandaVPN always stays one step ahead of Netflix. Because it is when an IP address belongs to a VPN being used to watch Netflix, Netflix starts tracking its target.
FAQs about Changing Netflix Region
Q: Is it legal to change Netflix region?
Using a VPN with Netflix is legal. However, changing your region with a VPN is against Netflix's terms of use. And that's why Netflix bans virtual private networks and other tools that can help you get around geo-restrictions.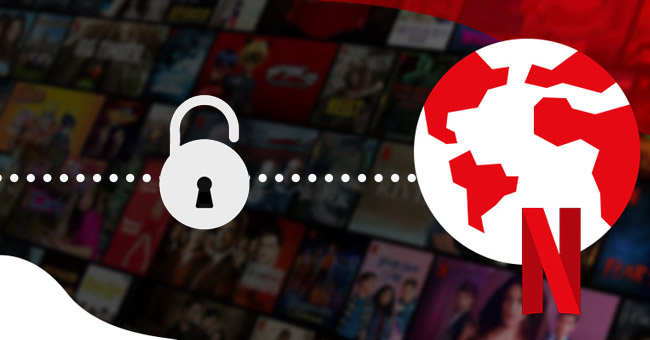 Q: How to change Netflix region for free?
We won't encourage you to use a completely free VPN to change Netflix location because most free VPNs offer very limited servers which are used by a large number of users. With so many users on one server trying to access Netflix meanwhile, the IP addresses will easily get blacklisted by Netflix.
Additionally, most free VPNs are unsafe. They collect user data and sell it to third parties like advertisers. If you are short on budget, try the free VPN plan provided by some premium providers such as PrivadoVPN and Windscribe. These are the only two free VPNs we found that are secure and available to unlock streaming services. But speed can be a bit slow.
Q: How to change Netflix region on Smart TV?
To change Netflix location on your TV, you need a VPN that's compatible with your Smart TV, be it Chromecast, Fire TV Stick, Apple TV, Android TV, or another service. PandaVPN supports Android TV. Just simply download this PandaVPN for Android/iOS, log in to your free trial account, and connect to servers outside your country.
Exercise your rights to privacy in digital age!
Get PandaVPN
7-day money-back guarantee