Best Free & Safe Private Search Engine List, How to Search Anonymously with Either of Them?
Vic Knott
2022.09.20
Online Privacy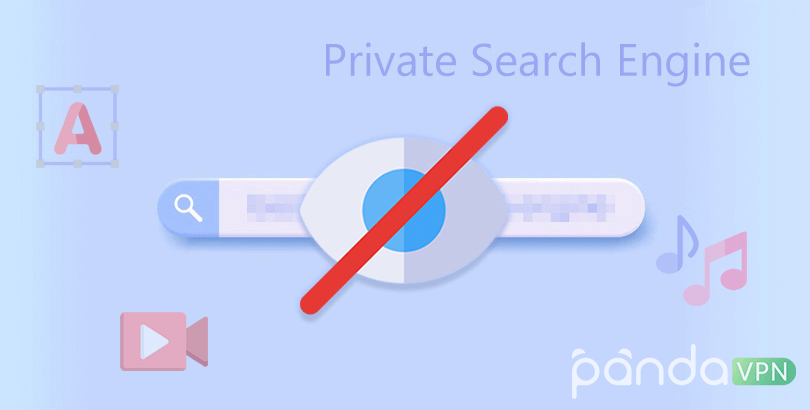 Online privacy becomes hard for common people now because of increasing web tracking and data collection. Is there any reliable private search engine for safer and more private search?
Internet builds another communication bridge between people besides the conventional telephone, telegram, and letter methods, making global connection a super easy task. However, with the continuous development of information technologies and the shaping of various rules, what goes along with the great convenience is the growing concern about our digital privacy (also known as online or internet privacy).
Previously we've introduced some top private browsers like Tor, Brave, and DuckDuckGo for users to have a relatively more private web browsing than using general big browsers' private/incognito modes. Here some best private search engines are hand-picked still to cater to those private searching requirements. You can choose to use the private search engine app or extension over mainstream browsers like Chrome, or have "private search engine + private browser" combination for expected search history protection.
Best Free Private Search Engines in 2022
Search engines are the internet products of human's curiosity, among which Google Search just stands out fast and has taken the leading place for quite a long time. According to some third-party data analysis company, Google now has 91% market share and about 5.6 billion searches happen per day here. As one of the top web behaviors and also the key to information or content, searching, to some customers, searching is also what they'd like to protect and don't want others to track and keep for further usage, just like generating tailored-ads and exposing the details to other parties.
Since Google search engine recognizes the power of information, it does collect user data in many aspects. As to search tracking, it tracks all search information from users for "providing better services". If you consider hiding your search data from search engines sometimes, please make the benefit of best non-tracking private search engines listed below.
1. Startpage Search Engine
Address: https://www.startpage.com/
Chrome Extention: https://chrome.google.com/webstore/detail/startpage-privacy-protect/…
Startpage is a known private search engine from Netherlands, which delivers a more secure way to search whatever you want and browse the target content without tracking or data gathering. Not only searched items, but also browsing histories and IP addresses are protected by it. Now you can directly go to its official site startpage.com to initiate the search journey, or download and install its Chrome extension and turn on the privacy protection feature.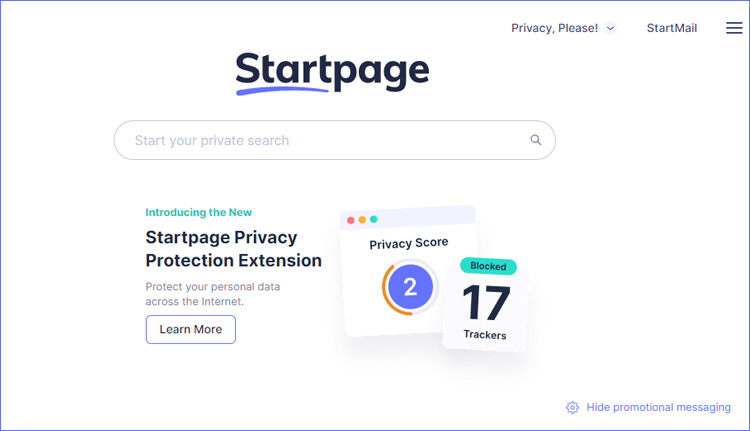 With this Startpage extension on, you can search via Startpage by default, get a Privacy score (between 0-5 and the higher the more reliable) of each site you visit, and enjoy a tracker- and cookies-free web browsing thanks to its internal blocker based on tracker detecting tech from EFF's Privacy Badger (about 1300 trackers are cookies are among the list). For advanced users, it also enables them to customize what domains or cookies are allowed, to send signals to websites about the privacy control action, to stop browsers from prefetching data etc.
2. DuckDuckGo Search Engine
Address: https://duckduckgo.com/
Chrome Extension: https://chrome.google.com/webstore/detail/duckduckgo-privacy-essent/…
Yes, besides DuckDuckGo private browser, DuckDuckGo private search engine is also available here for assisting you take back the online privacy. This Paoli-based all-in-one privacy solution provider claims to help millions of customers worldwide per day to do private yet simple search without any tradeoffs. Similarly, you can either open up duckduckgo.com page to start the safer information digging or have DuckDuckGo Privacy Essentials plugin installed and turned on on your browser like Chrome and FireFox to get away from online searching tracking.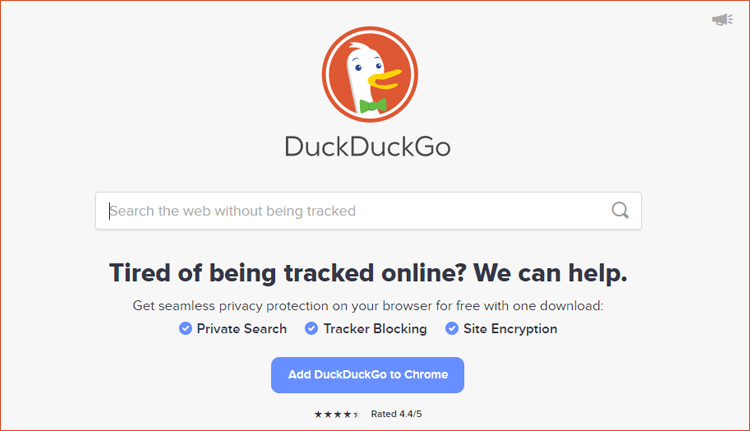 DuckDuckGo/DDG belongs to a metasearch engine or say search aggregator and it doesn't have its own searching algorithm, but only gathers searching data for users from other searching services like Yaboo, Bing, Yandex and Search BOSS. With the extension on, you are still able to view a privacy score of any site, the status of encrypted connection, trackers found & blocked and privacy practices level (good or poor). In addition, one can define unprotected sites and enable email protection. Owing to that it agrees to Global Privacy Control/GPC, you can tick the setting to send GPC signal to websites for not selling your personal information or sharing them to other firms.
3. Swisscows Search Engine
Address: https://swisscows.com/
Chrome Extension: https://chrome.google.com/webstore/detail/swisscows/…
Swisscows.com calls itself a data-safe search engine that all users can do anonymous search here and won't be tracked. To ensure the trustworthy anonymity, Swisscows guarantees never keeping user data, leveraging tracking technologies, using cookies, or presenting tailored ads. What's more, this private search engine builds its own servers and data-center in Swiss Alps, and directs all things geographically outside of European Union and the United States (since internet censorship and surveillance here are quite common), trying its best for a best possible privacy.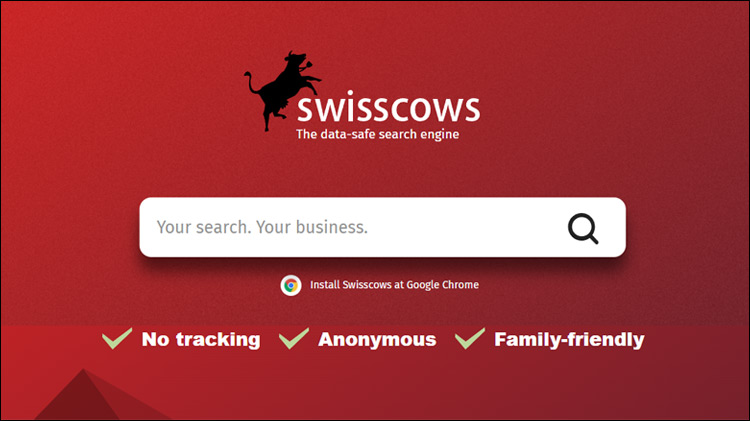 Swisscows is not a meta-search engine, which means yes, it has its own search index. It just happens due to that Swisscows has over two decades' cooperation with Bing, so Swisscows is quite confident that their users are easy to find what they want through the search results. Beyond that, considering many children are using the internet, Swisscows blocks any indexing or result display on porn adult and violence content and promote positive media education and values.
Note that Swisscows developed some other products like VPN.
4. Qwant Search Engine
Address: https://www.qwant.com/
Chrome Extension: https://chrome.google.com/webstore/detail/qwant-viprivacy/…
Qwant is a mature private search engine that values people's privacy and has stellar ranking algorithms. This first European SE from France was released primarily in 2011 and now the average monthly searches achieve up to 200 millions. To hunt information via qwant.com, your searching history and personal data are all out of their interest and no further targeted ads would be showcased based on your searches too.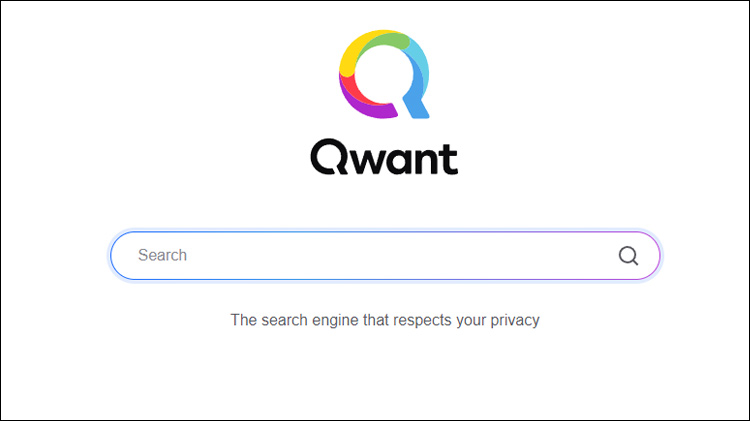 Qwant also has extension version that once you run it on your browser like Chrome, FireFox, and Edge, your search engine will be changed to that from Qwant by default and a tracking-free search is waving to you.
5. Searx
Address: https://searx.info/
Chrome Extension: N
Searx is an open-source and privacy-respecting metasearch engine, which only gathers various search results from 80+ search engines (Google, Bing, Yahoo, and Yandex incluced) to users while doesn't keep their IPs, search histories, and blocks tracking cookies to avoid filter bubble.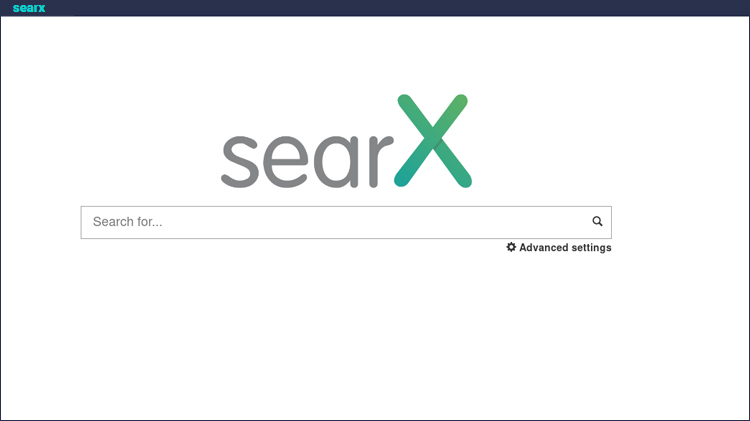 This is a reliable, customizable free tool with proxy search function, but for beginners, if you are not satisfied with the web search (searx.info) only and want to install it on your machine, it may be somewhat difficult to install since it requires some knowledge on the command line.
6. Qmamu Search Engine
Address: https://qmamu.com/
Chrome Extension: N
Qmamu is a new-emerging privacy-focused search engine from India. As the very first product of the same kind in this country, it's described as "India's Own Search Engine", being designed to help everyone around the world to be free to search and access web in truly private way and have a really safe browsing experience.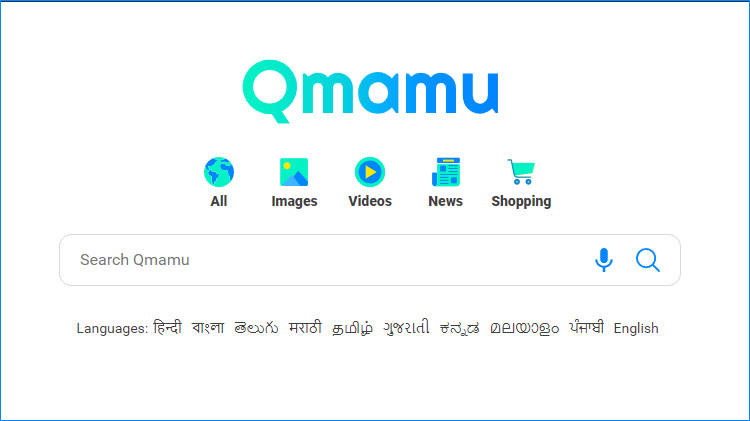 According to Qmamu's privacy policy, qmamu.com keeps none of your data, be it the searching details or other information you may use with this service such as email address, search engine account, passwords or phone number. But unlike the two SEs listed above, Qmamu was created in 2021 and currently only offers a private searching service via qmanum.com, with no available plug-in for browsers. Plus, this company has launched a self-titled private browser still for iOS and Android platforms.
7. Brave Search
Address: https://search.brave.com/
Chrome Extension: N
Brave is a recognized brand for private browser, and with the increasing concern on internet privacy, the self-developed Brave Search beta was released in middle 2021. Avid Brave users are free to search with it internally while for non-Brave users, simply move to search.brave.com to explore the web secretly.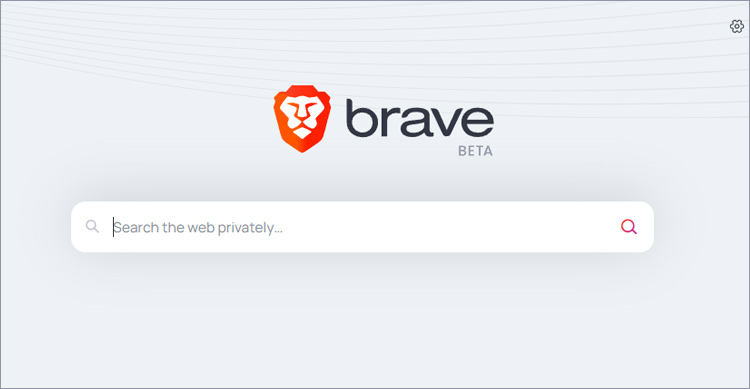 From the settings page of Brave search, it's easy to draw that Brave search now would collect your data for servuce optimization, however, it won't reach your identity by those data. When you enable the "Anonymous local results" feature, Brave only displays local information to you, but will not record your IP address and connect the search results to your identity at all, hence privacy searching is always here.
8. Ecosia Search Engine
Address: https://www.ecosia.org/
Chrome Extension: https://chrome.google.com/webstore/detail/ecosia-the-search-engine/…
Ecosia is an interesting search engine that puts efforts not on user data but on planting trees. Just like common search engines do, it makes profits by generating ads. What makes it different from them is that Ecosia simply uses the income to plant trees across the world and contribute to the ecosystem.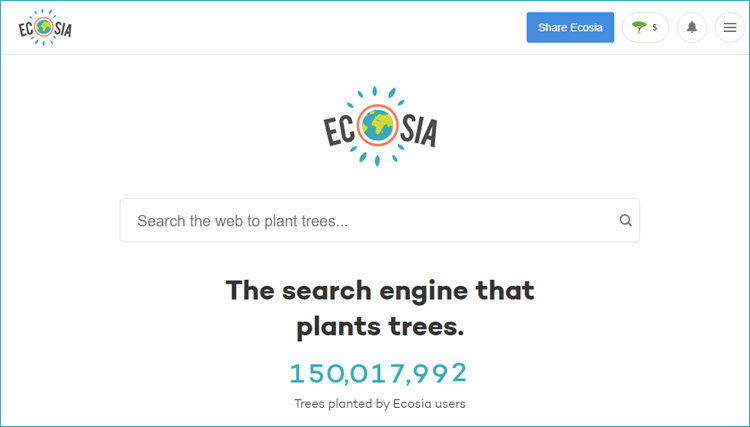 If the first impression of Ecosia is its tree-plating program, what comes next is its respect for digital privacy. Although Ecosia doesn't title itself as a private search engine, it actually works hard to safeguard customers' privacy, for instance it requires no profile for search, it anonymizes every search for 7 days, it encrypts all searched so that no one else (supervision departments, ISPs and hackers included) can see them, it doesn't adopts third-party tracking tools to access your data. But you have to know that Ecosia does tracking thing with its own trackers (you can turn them off as long as you run the service via its own browser) and still collect some data for service improvement only rather than selling them to advertising agencies.
How to Search Privately with Safe Search Engine for Privacy
To search anonymously, the steps are quite easy:
STEP 1: Choose a private search engine you like from the top list. If you're banned to access the search engine, please get a VPN to unblock search engine first.
STEP 2: Navigate to the official search page directly or install and enable its extension on the Chrome browser.
STEP 3: Type the item to search immediately in a private way. If necessary, check the settings to set everything as you prefer.

Private Search Engine vs. Private Browser vs. VPN
In light of the general confusion on the difference between private search engines, private web browsers and VPNs, here a simple comparison is made to make things clear.
Firstly, they are three completely different programs. As the name suggests, private search engines are born to help search without a trace, by shielding search history, bypassing search-oriented advertising, and weakening or even remove the relationship between searched items and your geo-location, whereas a first-in-class private browsers keep attentions not only on private searching, but also on the overall searching and browsing experience.
As to VPNs, they are mainly developed to create encrypted communication between user end and the web via the middle VPN server so that users can enjoy absolutely anonymous browsing and better data protection. It features hiding your IP address, real locations, search histories, browsing activities, and so forth from ISPs, governments, and hackers.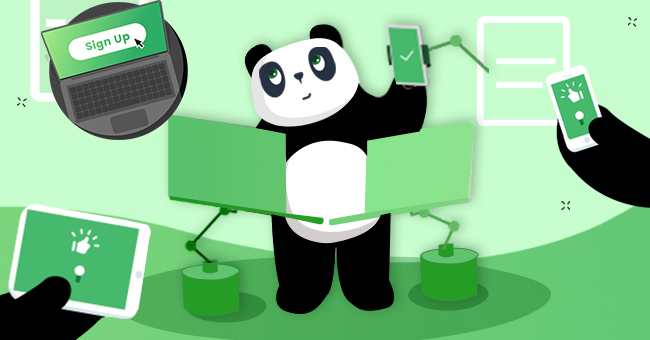 For advanced users who care their web privacy greatly, those three items are supposed to be here at the same time. Under this circumstance, you can choose either one or two or them all to search and browse with no trace and tracking.
If you don't have a VPN or you VPN is not fast and stable, you're suggested to get PandaVPN now. With over 3000 servers located in 170+ countries and locations all over the world, you can be anywhere you like and enjoy a private & free web access without censorship and supervision. No logs kept, no bandwidth limit!
FAQs on Private Search Engine

Any other private search engines to choose from?
Besides the 8 top names, there are many other private search engine options like SearchEncrypt, Gibiru, Mojeek, Yippy, MetaGer, and YaCy. Feel free to try them out is the eight search engines are not what you want.

Is there any dedicated porn search engine?
Surely there are. For adult users who want to search porn content only, try these popular porn search engines: PornMD, Chaturbate, MyWape, Porndex, NoodleVita, PornLoupe, and IXXX.

How do I choose a suitable private search engine?
3 factors are recommended to take into consideration when choosing the best private search engine:
1). Search results: Metasearch engine or the one with its own search algorithm and indexing and ranking system, you can search multiple items to see which supplies really reliable information in the results.
2). Other aspects of user experience: Most people get used to searching with the mainstream engines from Google, Bing, and Yandex, so it may make one feel accommodated when suddenly moving to another private SE. Some private search engines like DuckDuckGo and Qwant don't lag behind as of UI/UX. Don't quit in the very beginning due to varying interface, font size, color, etc.
3). Location: Generally, no matter you plan to choose a private search engine, web browser or a VPN to fight against censorship and monitoring, the location of the service also matters. That's because if it's based in countries with notorious internet censorship and data collection projects, like anyone from the 5/9/14 eyes alliance, in all probability, the authorities will ask the service providers to collect and hand over user data. Therefore, you'd better pick the one from a nation with better internet freedom. (Check Most & Least Censored Countries)

Do the Private/Incognito Mode within a Browser Really Private?
No. Private or incognito mode is only a typical feature of a browser to offer you the basic private searching and browsing. With this mode, your browsing history, cookies, site data and other information are only invisible to those who use the same device and browser, and the ISPs, website owners of what you've visited, employers, schools, browser developers etc. are all able to look into your actions as usually.
To be truly private online, you should seek help from other services like private search, private browser, and VPN.

Are the searches on private search engines really private?
Theoretically, as long as the service providers perform what they say, the searches are private and have nothing to do with your digital identity.
Exercise your rights to privacy in digital age!
Get PandaVPN
7-day money-back guarantee