10 Best Encrypted Messaging Apps: How to Unblock WhatsApp, Signal, Telegram, etc.
Tony Bennett
2022.07.22
How-to Guides
Online Privacy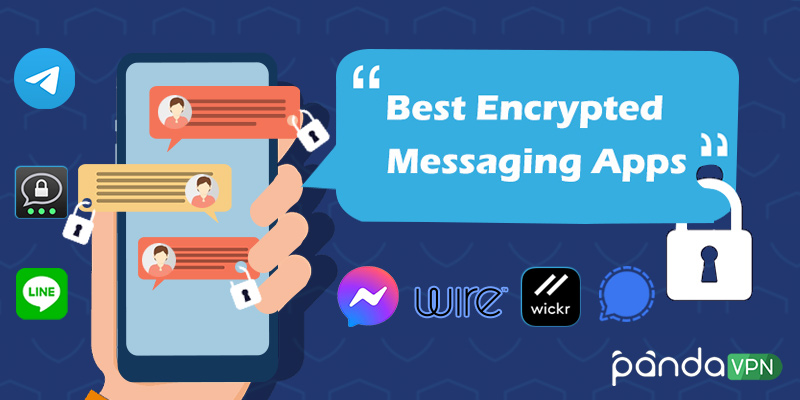 Using encrypted messaging apps can prevent others from snooping on your chats and calls. How can you choose a safe chat app?
End-to-end encryption is necessary, which ensures that only the sender and receiver can access the conversation content. Even better, it prevents apps from storing copies of your messages on their servers.
However, keep in mind that an unsecured device can enable anyone to access your messages. It's essential to use a separate password or biometric like Face ID, fingerprint, or iris to lock your messaging app. Or, use a VPN for an extra layer of privacy and security.
Back to the topic, here we'd like to share with you the 10 best secret chat apps for encrypted messaging. Keep reading to know their pros and cons. Some secret chat apps are blocked in many countries. And we'll show you how to bypass geo-blocks.
Best Encrypted Messaging Apps Comparison
The table below compares the advantages and disadvantages of the most secret chat apps.
| | | | | | | |
| --- | --- | --- | --- | --- | --- | --- |
| | Default Encryption | Open Source | Self-destruct | Phone Number Required | Blocked in Some Countries | Free |
| Signal | ✔ | ✔ | ✔ | ✔ | ✔ | ✔ |
| WhatsApp | ✔ | ✘ | ✔ | ✔ | ✔ | ✔ |
| Telegram | ✘ | ✔ | ✔ | ✔ | ✔ | ✔ |
| Threema | ✔ | ✔ | ✘ | ✘ | ✘ | ✘ |
| Wickr Me | ✔ | ✔ | ✔ | ✔ | ✔ | ✘ |
| Wire | ✔ | ✔ | ✔ | ✔ | ✘ | ✘ |
| Viber | ✔ | ✘ | ✔ | ✔ | ✔ | ✔ |
| Dust | ✔ | ✔ | ✔ | ✔ | ✘ | ✔ |
| iMessage | ✘ | ✘ | ✔ | ✔ | ✘ | ✔ |
| LINE | ✘ | ✘ | ✔ | ✔ | ✔ | ✔ |
Internet security is far beyond private messaging. Data leakages happen in more than just messages, voice calls, and video calls, but on many other occasions. For example, public Wi-Fi exposes your privacy, hackers steal your data, and your ISPs track your online activities. A VPN like PandaVPN can cover your IP address and make you anonymous online. You can have one on your device.
Anyway, safe chat apps enable you to chat privately at least. The followings are detailed descriptions of the above encrypted messaging apps. Check it out.
1. Signal
Owned by a non-profit foundation created by an anarchist cryptographer, Signal is the best encrypted messaging app, though your account is linked to your phone number.
Signal supports instant messages, group chats, voice calls, video calls, and media and file attachments. End-to-end encryption protects all of your actions on Signal. All Signal messages can be set to self-destruct after a certain period of time.
Using Signal to chat privately requires you and the person you are chatting with both to have Signal installed on your devices. This way, the encryption feature can function properly on both ends of the conversation.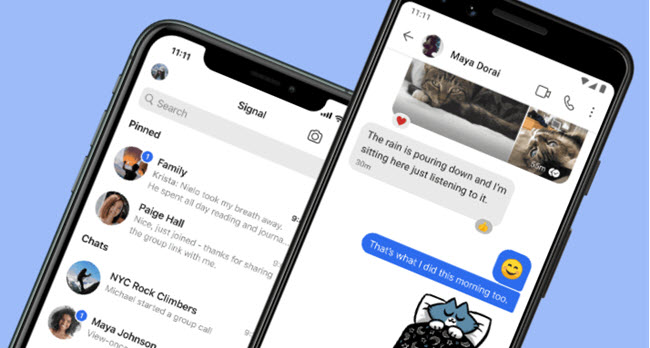 Pros:
 Open source and available for anyone to inspect, find and improve app vulnerabilities
 Industry-leading end-to-end encryption to safeguard your conversations
 Work on multiple operating systems like Android, iOS, Windows, macOS, and Linux
Cons:
 Need your phone number to set up a Signal account
2. WhatsApp
WhatsApp is the most widely used chatting app in the world, offering end-to-end encryption for your messages. Because of the huge number of WhatsApp users, you don't have to worry that your message recipients don't have WhatsApp installed on their devices.
In addition to text-based conversations, the WhatsApp app also handles voice messages, group chats, video calls, location sharing, and file transferring. The auto-disappear feature of messages has been added to WhatsApp.(How to download WhatsApp in China?)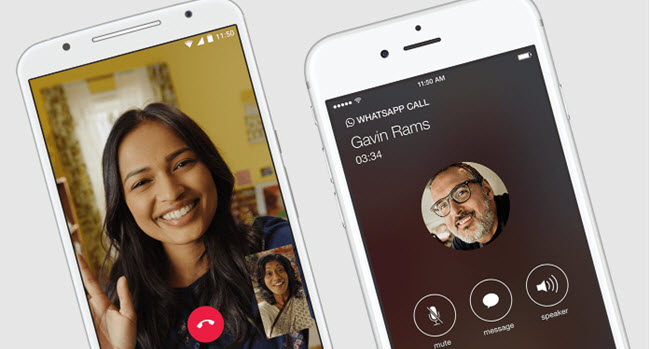 Pros:
 Use end-to-end encryption to protect your chatting
 Work on a lot of devices that run Android, iOS, macOS, and Windows
Cons:
 Owned by Meta, which means your data like phone location will be shared with Facebook
 Users' phone number is required to create an account for WhatsApp
 Not open-source
3. Telegram
Same as Signal and WhatsApp, Telegram lets you link your phone number to a Telegram account for private messaging.
End-to-end encryption is not enabled by default on Telegram. To enable this, you need to switch to Telegram Secret Chat mode. And only chats between two people support end-to-end encryption.
Anyone can create a Telegram group or a Telegram channel. You can set messages to self-destruct and you can also set your account to be automatically destroyed. Along with messages, other types of chat like voice calls and video calls, and file transfers are encrypted.
However, Telegram is more than just a messaging app. It's a worldwide social media platform where you can join group chats of up to 200,000 users. That's quite impressive.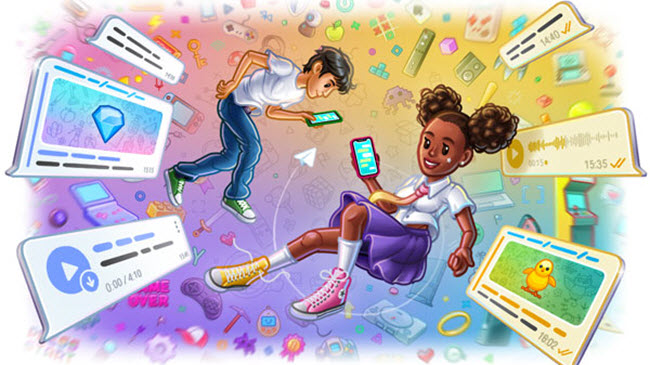 Pros:
 Super larger group chats
 Open source, with the exception of the proprietary server
 Compatible with multiple operating systems, including iOS, Android, Windows, Linux, and macOS
Cons:
 End-to-end encryption is not enabled by default
 Require a phone number to create a Telegram account
 Use its custom MTProto encryption that hasn't been audited by third parties
 Telegram is banned in China, Iran, Pakistan, and Bahrain (See: VPN for Telegram)
4. Threema
Threema is a paid secure messaging app that allows you to share images, videos, files, and locations. Here you can also create chat groups and set up polls. It mainly targeted enterprise users.
Threema encrypts your messages, calls, voice notes, and even files with end-to-end encryption. Furthermore, Threema is open-source, which adds to its credibility as a safe chat app.
This instant messaging app allows you to chat privately and anonymously. You will get a random Threema ID when setting up the messaging app and don't have to link a phone number or email address.
The Threema app is headquartered in Swiss, and interestingly, to recommend the use of Threema the Swiss army has banned many other instant messaging services, including Signal, Telegram, and WhatsApp.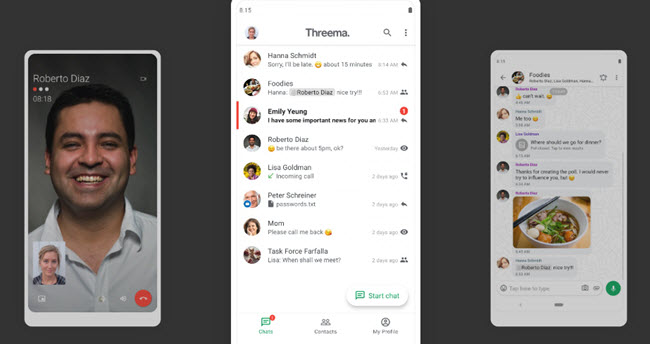 Pros:
 Open source to ensure full transparency
 No information is required to create a Threema account
 Work on all mainstream OSs, including Android, iOS, macOS, Windows, and Linux
Cons:
 Not a free messaging app
 Does not allow the self-deletion of messages after a certain period of time
 Does not prevent screenshots in conversations
5. Wickr Me
Wickr Me is a private messaging app that is based on 256-bit authenticated end-to-end encryption. Support messaging, group chat, and file sharing. Besides, every message, call, and file attachment is encrypted with a random key.
Messages, including photos, videos, and file attachments, on Wickr Me can be autodeleted based on the time they were sent or the time they were read. Alternatively, you can set an expiration date for your messages to disappear.
Wickr Me is the free version. Compared with Wickr Me Pro, Wickr Me is limited to specific features.
For example, Wickr Me has no multi-factor authentication, which means that anyone has the correct credentials can log in to your Wickr Me account. Besides, Wickr Me doesn't support teleconference/group calling, screen sharing, etc.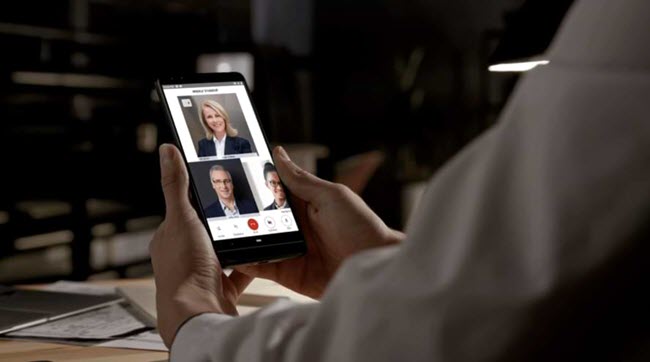 Pros:
 Open source messaging app to make sure transparency
 Available for the iOS, Android, Mac, Windows, and Linux operating systems
Cons:
 You need a cell phone number to register an account
 Compared with other encrypted messaging apps, Wickr Me has limitations, for example, it does not support group calling
6. Wire
Wire is another secret chat app that focuses on encrypted messaging. It's 100% open source with its code on GitHub.
When you register an account for Wire, a phone number or email address is required to receive a verification code. All messages on Wire are protected by end-to-end encryption. Support group chatting. An admin of a group can add more members to the group, and the new participants can't read all the history messages.
In addition to chatting, you can share pictures, audio, video, locations, and other types of files. E2EE shields your file sharing on Wire. All files will be stored on the server persistently.
The free version of Wire is limited to use within 5 users and features messaging. It's not the best option for individual users. Instead, it's a good private messaging app for enterprises that need group conferences and team management.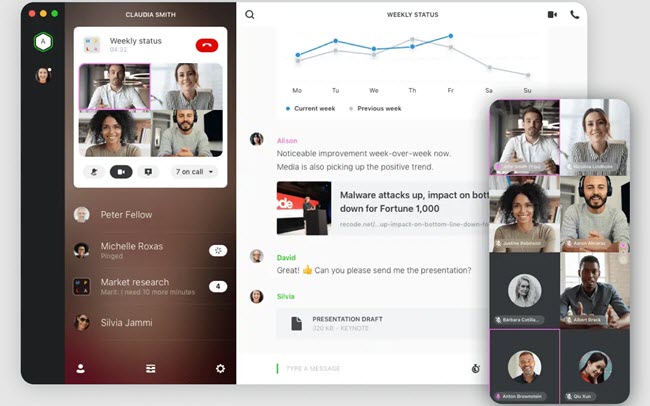 Pros:
 Open source and available to be verified by anyone
 Work on Android, iOS, macOS, Windows, and popular browsers
Cons:
 Focus on enterprise users and offer a limited free version for individuals
 You need a cell phone number or an email address to register an account
7. Viber
Viber is an instant messaging app operated by Japanese multinational company Ratuken. This secret chat app allows you to send free and secure calls and messages to anyone, anywhere. Messages can self-destruct as long as you set an automatic disappearance time.
Viber provides services more than messaging, including voice calls, video calls, group chats, and group calls. You can also create and share stickers and GIFs. Group chats can hold up to 250 people and group calls can hold up to 20 people at once.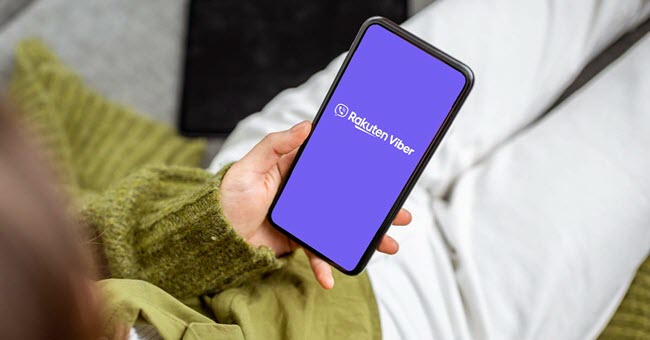 Pros:
 End-to-end encryption protects messages, voice and video calls
 Work on multiplatform, covering Android, iOS, Windows, macOS, and Linux
Cons:
 Phone number needed for sign up
 Viber is blocked in countries like China, Egypt, Pakistan, North Korea, etc.
8. Dust
Dust, formerly known as Cyber Dust, is an instant private messaging app that features end-to-end encryption. Moreover, messages are deleted 100 seconds after being read or after 24 hours if left unread. Once a message is deleted, it's gone forever.
A phone number is required while signing up for Dust. However, this is not displayed to your contacts on Dust, making the app virtually anonymous. Screenshots of messages are disabled by default on the app.
Here come the restrictions. For instance, Dust doesn't allow you to make voice or video calls. Groups can only consist of 26 users.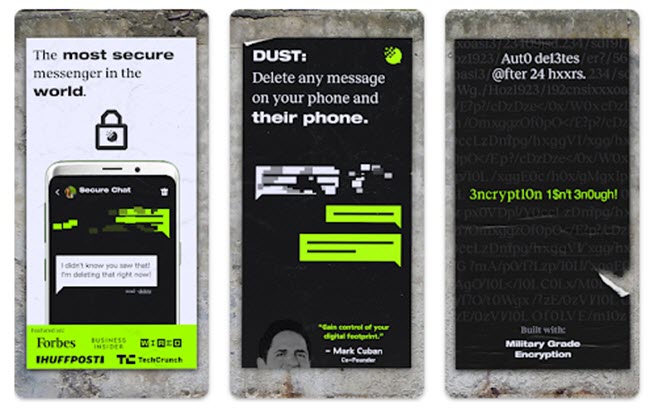 Pros:
 Auto-deletion of messages after 24 hours
 End-to-end encryption makes your online conversations private and secure
Cons:
 A phone number is required to sign for Dust, but it is not shown to your contacts on Dust
 Compatible with Android and iOS devices only
 Voice or video calls are not available
9. iMessage
iMessage on Apple devices is a convenient option to chat privately and send images, videos, and voice notes between Apple devices. However, the end-to-end encryption on iMessages is limited within Apple devices, and you must enable it from the Messages app settings in advance.
iMessage now also supports disappearing messages, including photos and videos. Moreover, on iOS 10 and later, users can also limit the number of times recipients can view a message.
A potential security issue is the option to back up your iMessages to iCloud. Messages stored in the cloud are encrypted by keys controlled by Apple, so if your iCloud were ever hacked, those messages could be revealed.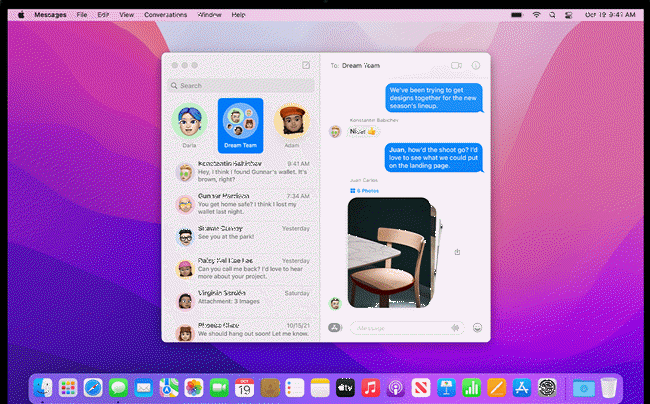 Pros:
 Built into all Apple devices and work on macOS, iOS, iPadOS, and watchOS
Cons:
Work for iPhone, iPad, and Mac users only
 Text messages received on iMessage are not encrypted
 You'll need to use your phone number with iMessage
 Apple is known for its closed ecosystem, so iMessage is not open-source
10. LINE
LINE is a widely-used secret texting app that provides free encrypted messaging, free voice calls, and video calls. Like many other popular private messaging apps, you need to offer your phone number to create an account.
LINE is more than just an instant messaging app, coming with several features to enhance your interactions. For instance, you can read popular news on Line News, speak with a doctor over a video call on Line Doctor, listen to trending songs and watch music videos on Line Music, pay or send money by Line Pay, etc.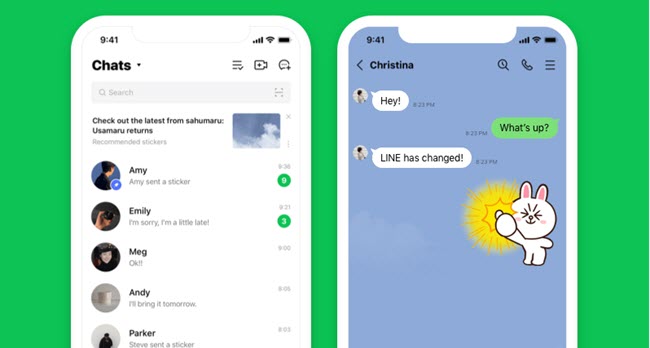 Pros:
 Compatible with multiple OSs, including iOS, Android, macOS, and Windows
Cons:
 End-to-end encryption (known in the app as "Letter Sealing") must be manually activated
 Encryption is limited to messages only, excluding voice notes, images, or files
 You need to offer your phone number to create an account
 LINE is censored in China, Russia, etc.
Messaging Apps Banned in Your Country? Use a VPN to Unblock WhatsApp, Signal, Telegram, etc.
A virtual private network (short as VPN) encrypts your internet connections through advanced encryption algorithms such as 256-AES encryption, ECC encryption, etc. Plus, a VPN transfers your internet traffic through private tunnels that are protected by security protocols like OpenVPN, WireGuard, etc.
By encrypting your connections via ECC encryption, OpenVPN, and WireGuard, PandaVPN keeps your data safe and private no matter whether you visit a banking site, a shopping site, or even your secret chat app.
Beyond protecting your online privacy and security, PandaVPN also works for getting around geo-restrictions. If any private messaging apps mentioned above are banned in your country, PandaVPN can help you regain access to your favorite ones. Take WhatsApp as an example, and we'll show you how to unblock WhatsApp with PandaVPN below.
Step 1. Download and Install PandaVPN
PandaVPN works on iOS and Android mobile devices, as well as Windows laptops or computers, macOS laptops or computers, Linux, and Android TV devices. Click on the button below to download PandaVPN Apk or get PandaVPN iOS app. The following steps take PandaVPN for Android as an example.
Step 2. Log In and Connect to PandaVPN
No registration is required. First-time Android users who install PandaVPN Pro will be given a free 3-day VPN trial account. The account is made up of random numbers, you just need to set a password and click sign in.
PandaVPN supports one-click smart connection. Just click on the "Smart Connect" button. Alternatively, you can choose any server outside the WhatsApp-banned countries.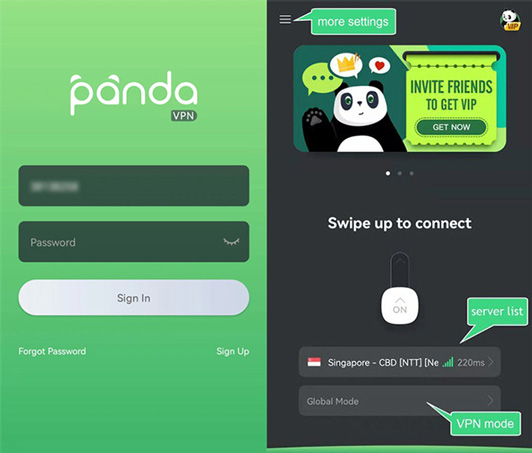 Step 3. Get WhatsApp and Chat Privately
From Google Play or App Store, download the WhatsApp app and create a new account with your phone number. Then you'll have unlimited access to WhatsApp for encrypted messaging.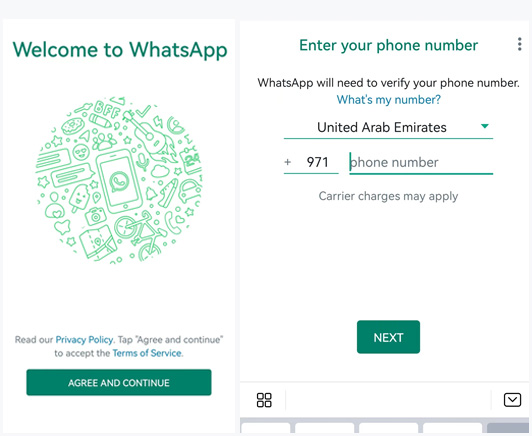 FAQs about the Encrypted Messaging Apps
Q: What makes the best messaging apps?
The followings are the main factors that make an encrypted messaging app reliable.
1) End-to-end Encryption – E2EE allows only the sender and the recipient of the messages to have the access to read them. Any other third parties including your ISP, mobile carrier, and phone/computer manufacturer can't access them.
2) Self-destructive Messages – Messages are heavily encrypted and can self-destruct. The self-destructing messages will disappear automatically after a certain period of time, depending on your settings.
3) Open Source Software – This means the app is open to anyone that can inspect, modify, and enhance it. Open source code allows the messaging apps to be independently verified for security.
4) Minimal Data Collection – Some messaging apps may collect metadata about you, including who you talk to, how long you chat, what device you use, and even your IP address and phone number. If you mind this problem, check the user agreement carefully and choose a private chat app that doesn't log your metadata.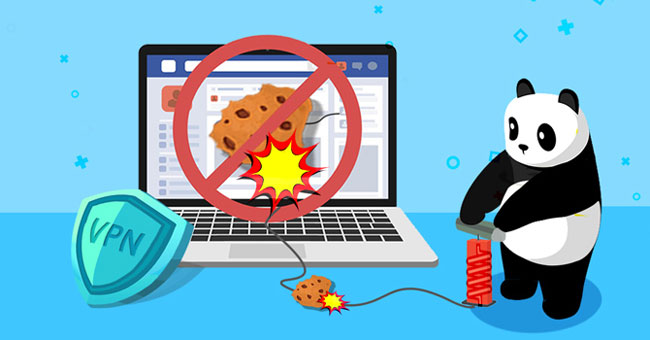 Q: What is the safest encrypted messaging app?
Signal is the most secure messaging app, offering industry-leading encryption to protect your chats and calls over the internet. It is based on a combination of Curve25519, HMAC-SHA256, and AES-256 encryption protocols. It's almost impossible to crack.
Q: Is WhatsApp truly encrypted?
The fact that Facebook owns WhatsApp makes people hesitate to believe it is an encrypted messaging app. Actually, WhatsApp is one of the easiest ways for anyone to use end-to-end encrypted messaging. It encrypts your chats end-to-end by default.
However, note that WhatsApp does collect your contact list, location, device identifiers, and transaction history, among others.
Q: Is Facebook Messenger private?
Messages you send through Facebook Messenger are not end-to-end encrypted. We do not encourage you to use Facebook Messenger for private messaging. Try the secure chat apps we recommended above.
Exercise your rights to privacy in digital age!
Get PandaVPN
7-day money-back guarantee